Our mission...be storytellers for God.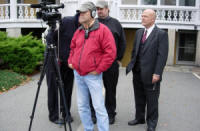 New Shepherd Films is devoted to producing high-quality, family entertainment with Christian-oriented themes based on real life events. Our desire is to entertain our audience with world-class creative talent and technological capabilities while at the same time tell true stories about God at work in everyday lives. Everyday. And to do so with films that deliver great stories, spectacular visual imagery and a sensibility that appeals to both children and adults.
Founded in 2009, New Shepherd Films, LLC has quickly become a recognized leader in Christian entertainment having developed and produced its first full-length feature film in record time. With more stories awaiting development, New Shepherd Films promises to be here to stay!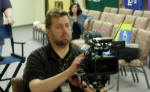 In each film, we strive to tell true stories that are uplifting and inspiring, yet told with a level of sophistication that appeals to the broadest audience possible and captures the imaginations of all people regardless of age or faith.
While our company may be new to the industry, our management is one of the most experienced and dynamic teams around. In just our co-founders alone, Jim Huggins and Russell Dougherty, we have nearly 50 years of combined experience overseeing artistic and technical leaders from a wide range of backgrounds in film and entertainment production, project management, and computer and information technology.
Please see our latest offering: "Memoirs of an Angel". The newest book from author/director Jim Huggins is an inspiring and compelling read containing the many of the untold and true stories that inspired the movie FOOTPRINTS. New Shepherd Films is pleased to offer this newest book at a special price for our fans!
While New England may not be the first place you'd think to look for an independent, faith-based film company, you can find us on the Southcoast of Massachusetts!
New Shepherd Films is located on the 3rd floor at 397 Bay Street in Fall River, MA just below Kennedy Park.
We tell stories! Specifically, we tell true stories that highlight God at work in everyday lives. Everyday!
Given the pace of our society today...with all the demands and pressures we face each day...it's easy to lose sight of the fact that God really does exist and that He's involved in our lives. Engaging stories are a great way to slow down and see the world around you from a different perspective!

Jim Huggins, Russ Dougherty,and Leslee Huggins are New Shepherd Films. Jim and Russ are the heart of the creative development team while Leslee provides unwavering support and is a key member of the management team.